In this article, we compare the key differences between Lenovo ThinkReality VRX vs Pico 4 Enterprise. The reason is mixed reality is gaining popularity and more VR headsets feature this blend of VR and AR. Thus, both the VRX and Pico 4 Enterprise are aimed at the enterprise market using mixed reality making it difficult to choose between the two. This article helps you make that decision.
Table of Contents
Pros of ThinkReality VRX vs Pico 4 Enterprise
| | |
| --- | --- |
| | |
| Featuring the new Snapdragon XR2+ | |
| Dual RGB pass-through cameras for improved mixed reality | |
| Slimmer design and form factor | Dynamic foveated rendering |
| Improved dual-camera video pass-through | |
| | Local support through a partner network |
| | More secure with ISO 27001/27701 privacy certification |
Specifications Comparison of the VRX vs Pico 4 Enterprise
| | | |
| --- | --- | --- |
| | | |
| | | |
| | 2280 x 2280 pixels per eye | 2160 x 2160 pixels per eye |
| | | |
| | Yes (dual RGB pass-through) | Yes (single RGB pass-through) |
| | | |
| | | |
| | Qualcomm Snapdragon XR2+ Gen 1 | |
| | | 295 g (586 g with headband) |
| | | |
| | | |
| | Inside-Out 6DoF with 4 integrated cameras with hand tracking | Inside-Out 6DoF with 5 integrated cameras with eye-, face-, and hand tracking |
| | | |
| | | |
| | | |
Design and comfort of the ThinkReality VRX vs Pico 4 Enterprise
Despite the Pico 4 Enterprise and Lenovo Thinkreality VRX using the same pancake lens, the designs differ greatly between the two VR headsets. The ThinkReality VRX has a compact industrial aesthetic with less rounded corners and a mat-black color throughout. Comparably, the Pico 4 Enterprise has a sleeker black-and-white design resembling the shape of skiing goggles.
Similarly, ThinkReality VRX and Pico 4 Enterprise place the battery pack in the back for more balanced weight distribution and better comfort. This is a crucial design choice as both VR headsets adopt the modern halo strap, shedding the top strap to keep one's hairstyle intact but placing more weight on the front, i.e., your forehead or nose. In fact, Lenovo conducted user tests and found people prefer the halo strap over the conventional top strap.
Jason McGuigan, Head of Commercial for VR at Lenovo, said in an interview with XR Today, "through a bunch of UX studies we're making sure that it's comfortable to wear for majority of people without the top strap… a lot of people don't want to put it on because it may mess up their hair."
For the halo strap to work, a lighter and not just balanced weight must be achieved. Here Pico 4 Enterprise clocks in at 586 grams with the strap, where we don't know the total weight yet for VRX. We will update this comparison once we know more.
It then comes down to preference, both VR headsets use the halo strap with a great weight balance, and where Pico 4 Enterprise has a sleeker and rounder design, ThinkReality VRX is more industrial.
Display of the VRX vs Pico 4 Enterprise
Visual performance is the combination of pixels per degree (PPD), lens and display type. As mentioned, the two VR headsets use the same pancake lens for improved clarity, but the VRX has a higher PPD of 24 compared to Pico 4 Enterprise's 20,6 PPD. In practice, this means greater detail is seen on the ThinkReality VRX. However, the lesser pixel density for Pico 4 Enterprise also means it has a wider field of view by 10° than VRX. While a ten-degree difference doesn't sound significant, it is noticeable in both the immersion of virtual reality and the usability of mixed reality. Finally, we don't know ThinkReality VRX's display type, a factor that impacts the final visual experience considerably.
At this moment, there is no clear winner for visual performance between VRX vs Pico 4 Enterprise.
| | | |
| --- | --- | --- |
| | | |
| | 2280 x 2280 pixels per eye | 2160 x 2160 pixels per eye |
| | | |
| | | |
| | | |
Tracking between VRX and Pico 4 Enterprise
Lenovo ThinkReality VRX and Pico 4 Enterprise are standalone, inside-out tracked 6DoF virtual reality headsets targeting enterprises. But where the VR headsets differ is Pico 4 Enterprise features five external tracking cameras in total: four for spatial tracking and one full-color pass-through camera for mixed reality. ThinkReality VRX offers the same external tracking cameras but uniquely two full-color stereoscopic cameras for video pass-through.
In other words, ThinkReality VRX's mixed reality will be able to better represent the depth and scale of its 3D objects compared to Pico 4 Enterprise. The reason is that stereoscopic pass-through cameras mirror how our eyes judge distance and depth. VRX does this by allocating one pass-through camera per eye and calibrating the mixed reality based on how we naturally see the world. This means mixed reality on VRX will be more realistic and immersive compared to Pico 4 Enterprise and Meta Quest Pro.
Both headsets feature the option to use the VR headset in 3DoF rather than 6DoF, as this saves battery life and is more suited for sedentary office VR tasks. Similarly, both Pico 4 Enterprise and Lenovo ThinkReality VRX work as an all-in-one standalone VR headset and tethered PC VR headset when more processing-intensive tasks must be completed.
The winner is Lenovo ThinkReality VRX with its dual cameras for video pass-through improving the mixed reality experience compared to Pico 4 Enterprise's single RGB camera for pass-through.
Performance of the Pico 4 Enterprise vs VRX
Lenovo ThinkReality VRX will be the second VR headset with the updated Snapdragon XR2+ Gen 1 chipset, delivering about 50% more computing power compared to the current industry standard processor Snapdragon XR2. A chipset of the Pico 4 Enterprise features. Despite the difference in processing speeds, most enterprise use cases can run on older XR2 from 2019. However, with the added 12 GB of RAM on ThinkReality VRX compared to the 8 GB on Pico 4 Enterprise, VRX is more future-proof for coming business and productivity applications.
When that is said, then the eye tracking on Pico 4 Enterprise, enables dynamic foveated rendering, enabling the headset to run ten times faster. This means with applications where foveated rendering is optimized, Pico 4 Enterprise is faster and more capable. Lenovo, to alleviate this, takes advantage of its partnership with NVIDIA in offering NVIDIA CloudXR™, which is a software solution where graphical-intensive tasks are rendered in the cloud and streamed to the Lenovo ThinkReality VRX headset. For now, CloudXR is a promise rather than a reality, as bandwidth speeds cannot match the high refresh rates of virtual reality.
Lenovo ThinkReality VRX just barely eetches ahead of Pico 4 Enterprise in processing power with the latest Snapdragon chip and higher amount of RAM. While impressive gains are achieved through dynamic foveated rendering for Pico 4 Enterprise, applications must have it enabled.
Which VR headset has the best content?
Like Lenovo's other VR headsets, ThinkReality VRX is connected with Qualcomm's Snapdragon Spaces™ platform. An XR platform based on OpenXR and open-source SDKs for developers and enterprise users to easily develop content for the Lenovo ThinkReality VRX. Additionally, Lenovo offers the ThinkReality platform: a Mobile Device Management hub where managers can control and deploy their VRX headsets and access worker performance data for optimization and analytics.
Comparably, Pico 4 Enterprise has a dedicated productivity app store with developers releasing content tailored towards businesses, office VR, and productivity. In addition, Pico offers the Pico Business Suite: an operating system tailored to solve businesses' use cases. Like the ThinkReality platform, Pico Business Suite is a Mobile Device Manager where enterprises can control content access, privacy settings, and manage workflows. Further, Pico Business Suite includes open and downloadable SDKs for businesses to develop customized software to be sideloaded onto their Pico 4 Enterprise VR headsets, making the Pico 4 Enterprise VR headset incredibly versatile.
Pico 4 Enterprise offers the best suite of native applications to manage the device and find solutions for enterprises' use cases. While ThinkReality VRX enjoys content and ease of custom development from Snapdragon Spaces, Pico's open system wins out ahead.
Initial Setup of Pico 4 Enterprise vs VRX
Lenovo uses its multi-device presence in the business market through its end-to-end services. These are value-adding services where businesses receive expert consultation and support, with particular emphasis on security and privacy for all supply and value chain links attached to the Lenovo ThinkReality VRX headset. In other words, Lenovo's setup and support are in-house.
Alternatively, PicoXR uses a comprehensive partner network to supply its customers with expertise, maintenance support, and white-glove consultation of use case solutions. In fact, most of them are local to the regional markets where their headsets are sold. And finally, regarding security, Pico Business Suite's privacy settings are ISO 27001/27701 certified.
The Pico 4 Enterprise has a better setup and support system. The reasons are the local support offered through partner networks and an added ISO 27001/27701 certification.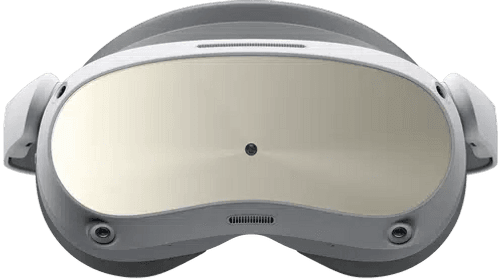 Final judgment: which VR headset is the best?
There are only a few differences between the two enterprise VR headsets: Pico 4 Enterprise vs Lenovo ThinkReality VRX.
First, VRX is positioning itself on superior mixed reality with a dual stereoscopic camera setup delivering a more lifelike and immersive MR experience. Comparably, Pico 4 Enterprise's video pass-through for mixed reality is better than its closest competition, but we suspect it cannot compete with the dual RGB camera setup.
Secondly, Pico 4 Enterprise has embedded low latency eye tracking where Lenovo ThinkReality VRX doesn't. This pushes the VRX behind the curveball as eye tracking is required for many use cases to be solved and enable dynamic foveated rendering.
To alleviate this a bit, Lenovo ThinkReality VRX will be the second virtual reality headset to use the updated Snapdragon XR2+ SoC processor for faster speeds compared to the Pico 4 Enterprise VR headset.
Naturally, it comes down to the pricing of the upcoming Lenovo ThinkReality VRX to finally determine the better VR headset for enterprises. Since the VRX has yet to be released, no official pricing has been released. Once the Lenovo ThinkReality VRX releases in Q1-2023, we will update this article to be more detailed.